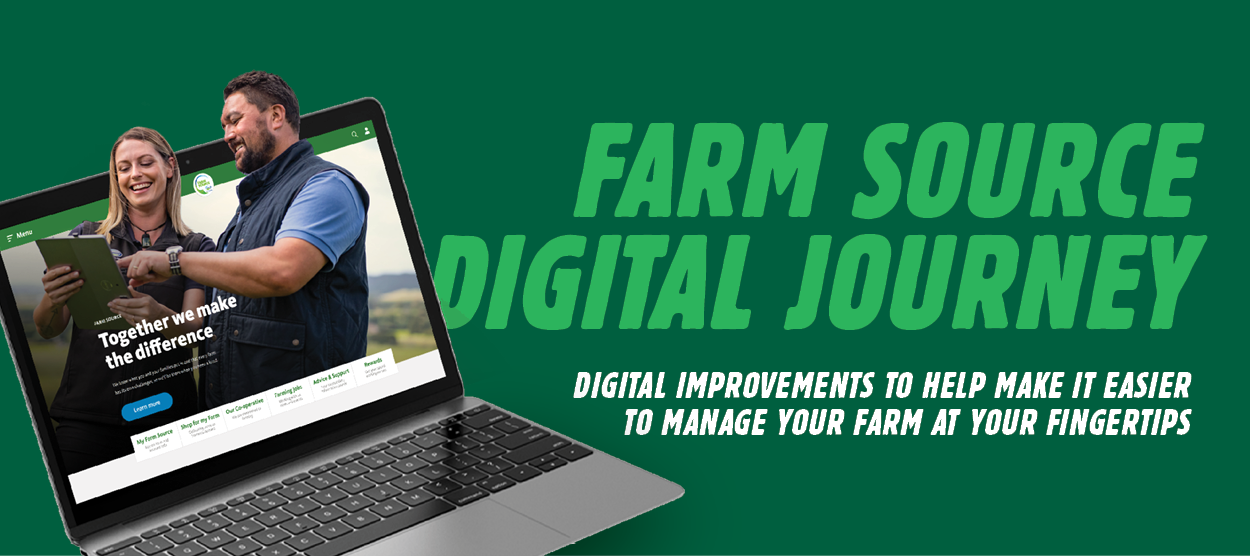 Our Digital Journey
We are committed to a better digital experience for you
To create outstanding digital experiences for you, we are improving our web and app platforms as part of a multi-year Digital Transformation Programme.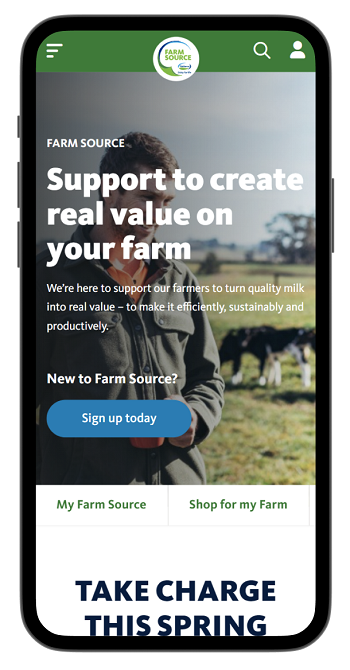 Throughout the design and development, we will be continually reviewing with farmers to ensure we build an experience that best supports you. The first phase of the project will work on getting the foundations right.
Improvements will focus on:
Making it easy - empowering you to intuitively navigate our digital tools
Making it personalised - showing data and content that is relevant to you and your needs
Making it connected - no matter what device, the experience will be consistent and user friendly
Enhancements to the Farm Source website will go live from late October 2023 and include an easier navigation, simplified dashboard and refreshed look aimed at helping you find what you need faster. Improvements to the Dairy Diary, My Co-op and On Farm apps will then roll out over the coming months.

The next phase of the Digital Transformation Programme planned for further in the future will focus on our retail and online store digital experiences.

Farm Source's Head of Digital Innovation Jerry Castellanos says the improvements are all aimed at providing you with a more valuable, intuitive and seamless digital experience.
"We want farmers to have the best experience possible when using our digital platforms. Our website and apps have served our farmers well, so we aren't looking to reinvent the wheel - we're simply looking to build on and enhance what is already in place.

At the end of the day, our digital platforms are only truly successful if they work well for our farmers so we've really listened to their feedback and are implementing improvements that will better support them and their farms," he says.
Frequently Asked Questions (FAQs)
What is going to be different about the website?
We are introducing a new public area to make the Farm Source brand clearer for both existing and potential farmers and customers.
The design is improved to make the website more intuitive and easier to use.
The navigation is improved to provide a better user experience by ensuring consistency across devices, streamlining design, and future-proofing our website for our growing mobile audience.
---
How will I use the improved navigation on the website?
On both mobile and desktop, we will be using a 'hamburger menu' which is located at the top left-hand side of your page.
This will help to find what you need to quicker, as this style of menu allows us to provide more context to areas of the site with more intuitive titles and subtitles for clarity.
---
When will the improved website be live?
The expected live date is late October 2023.
---
Does this impact the online store and how I order or view products today?
No. The Farm Source online retail store is not part of this project phase and we will be looking to improve the digital experience for online retail in the future.