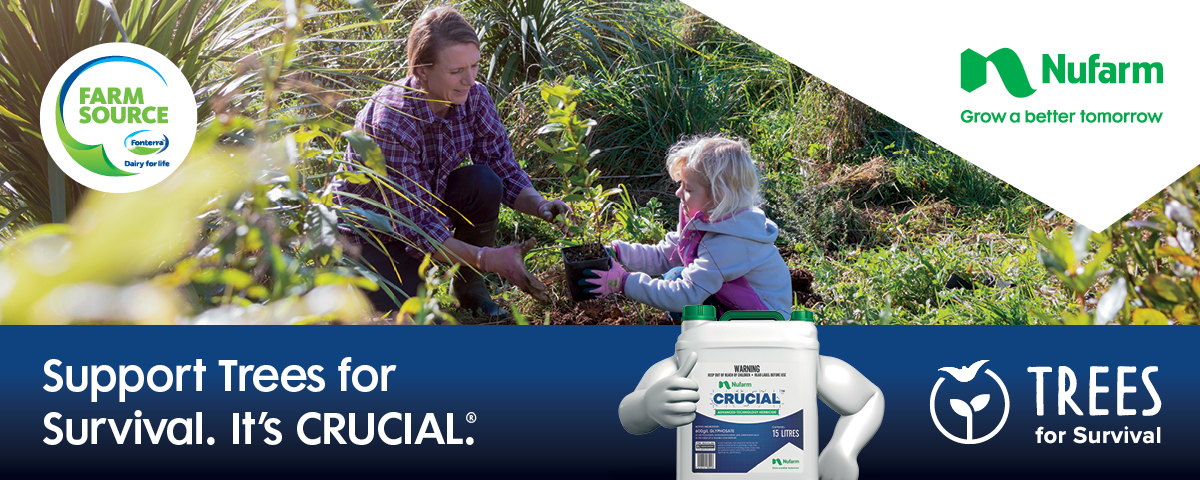 Purchase CRUCIAL® and Farm Source and Nufarm will donate to Trees for Survival*
With more weed killing power per litre, using less product per hectare, CRUCIAL® is a real breakthrough.
From 1 September until 31 October 2021, for every 15L drum of Nufarm CRUCIAL® sold Farm Source and Nufarm will gift $7.50 to Trees for Survival Charitable Trust.*
Trees for Survival plant native trees to prevent land erosion and to improve the water quality of our streams and wetlands.
To provide even more support to Trees for Survival, Nufarm Priority Partnership® members can get right behind Trees for Survival by converting their points into donations. If you're not a member, sign up to Priority Partnership® now and join the crusade!
To sign up, visit prioritypartnership.co.nz or call 0800 805 588.
Want to become a Trees for Survival landowner?
Do you live along an environmentally at-risk stream or bank and are keen to work with Trees for Survival schools to revegetate the land with New Zealand natives plants?
Trees for Survival landowners often get hooked on planting and are part of the programme for a number of years as they complete their planting projects. This works well for the schools who form a link with the landowner and students can go back to see how the plants have grown over the years.
---
View promotion Terms and Conditions.
® CRUCIAL is a Registered Trademark of Nufarm Australia Limited.
® Priority Partnership is a Registered Trademark of Nufarm Limited.