Get the most from your maize silage stack
24 February 2019
With maize silage harvest fast approaching, it's a good time to prepare a management plan that maximises maize silage quality and reduces storage and feed-out losses.
The checklist below outlines some of the important steps in preparing for maize silage harvest:
Check your crop with your local Farm Source Technical Sales Rep (TSR) to determine estimated harvest timing.
Talk to your contractor about approximate harvest time, stack site location and vehicle access.
Order silage inoculant, a high-quality silage cover, silage tape to secure joins and/or patch holes, and rat bait.
Make sure you have enough tyres or sand bags to hold down the cover.
Source sand or limestone to seal the edges of the bunker or stack.
Applying a proven silage inoculant at harvest time is an important step. Pioneer offer two distinct types of tested and proven maize silage inoculants: products to improve fermentation quality and products to reduce heating at feed-out time as well.
Less heating
Maize silage contains a high concentration of starch and sugars which makes it more prone to heating when the stack or bunker is opened at feed-out time. When silage heats, it loses valuable nutrients which could have been used by the cow to produce milk. A paper presented at the New Zealand Grasslands Association conference1 compared the aerobic stability of eight different maize silages inoculated with three commercially available silage inoculants.
Silage inoculated with Pioneer brand 11C33 stayed cooler 55.5 hours longer than the untreated control. There was no significant difference between silage treated with other products and the untreated control.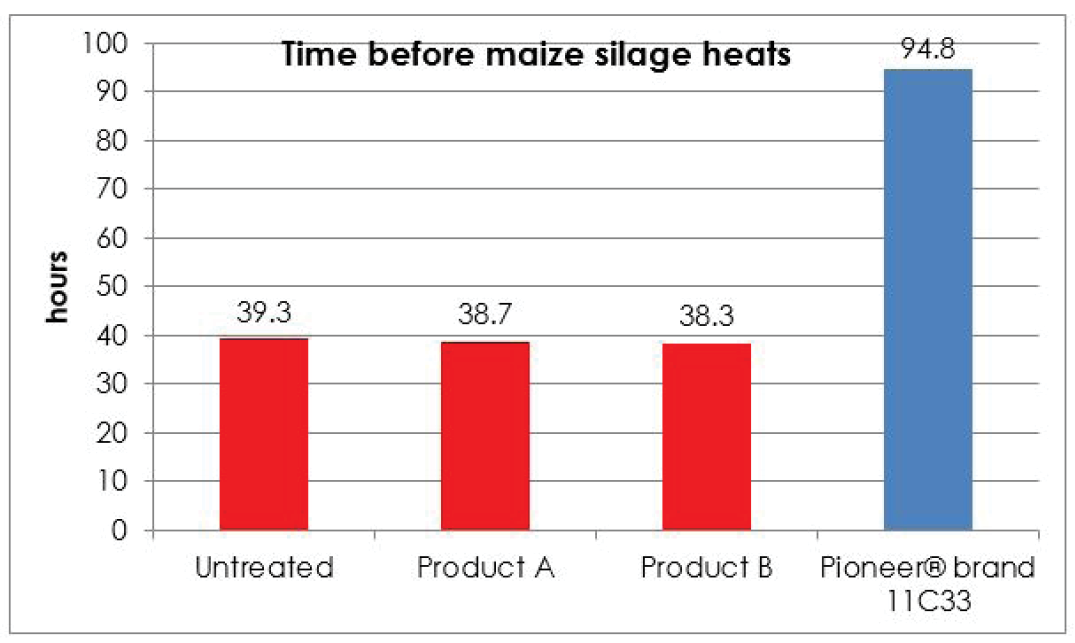 Improved fermentation quality
Pioneer brand 1132 and 1174 improve fermentation quality resulting in a higher drymatter (DM) recovery, improved silage quality and more milk or meat for every tonne of maize ensiled. In fact, at a milksolids payout of $6.25 per kgMS, you get back $9 for every dollar invested in Pioneer brand 1132 and $3.78 for every dollar invested in Pioneer brand 11742.
For more information on maize silage harvest or selecting the right inoculant for your crop, talk to your local Farm Source TSR.
1Kleinmans et al, 2011. Using silage inoculants to improve the quality of pasture and maize silage in NZ. Proceedings of the NZ Grassland Association 73: 75-80.While maize silage can be fed immediately after harvest, maximum aerobic stability gains will be made when it is fermented 30 days prior to feeding.
2Returns calculated using drymatter recovery data from Pioneer trials, Washington State University dairy trial milk production results and a milksolids payout of $6.25/kgMS
Article supplied by Pioneer® Brand Products