Turning up production with turnips
25 August 2019
A continued great performance on farm and outstanding trial results see Barkant® maintain its place as New Zealand's leading summer turnip.
During warmer months when declining pasture quality can have negative impacts on milk production, Barkant offers high yields of quality feed. The leaf delivers supplementary protein, while the bulbs deliver water-soluble carbohydrates required to maintain or boost milk-production.
Quality summer production has been one of the benefits of growing Barkant turnips for Kelly Sheely and Craig Garland over the past four seasons in the Waikite Valley, Waikato. Together Craig and Kelly are lower order sharemilking 530 cows on 150 effective hectares (ha). Over the past three seasons they have lifted production from 195,000 kilograms (kg) of milk solids (MS) to 231,000 kgMS.
Each year they plant 10 ha of Barkant and 12 ha of Cleancrop™ turnips to maintain production through the summer dry period when pasture production and quality declines. Craig takes care of paddock selection and preparation while Kelly looks after feed budgeting and allocating.
The couple are strong believers in best practice and do everything by the book. Seedbed preparation is key - they start with a good spray-out and apply fertiliser and lime according to their soil tests.
When it came to feed budgeting, Kelly says: "Last season, more than others, we really needed the summer crops because of the weather's inconsistencies. We traditionally start our Barkant turnips on the 1st of January with 10 hectares put aside for them. Our crop weights this year have been consistent with other years, with 15 tonnes (t) of dry matter (DM) per ha grown."
Every morning the cows get held up and released onto the crop together to ensure a safe transition and measured allocation of crop.
Multiple trials conducted in collaboration with Plant and Food Research and PGG Wrightson Seeds back up and confirm Kelly and Craig's amazing on farm results.
Barkant remains unbeaten in trials and produces between 0.9 and 2.3 tDM/ha more than all other turnip varieties.
In addition to total yield, Barkant is early maturing and its high leaf percentage provides the protein required to drive milk production as pasture quality declines.
Another option for areas with high weed pressure is the Cleancrop bulb turnip. The Cleancrop system provides farmers with a simple weed management tool to control many problem weeds including docks, willow weed, red root, fathen and shepherd's purse.
This system packages seed with the broad-spectrum herbicide Telar® which requires minimal moisture for activation and only has a three-month plant back for grass and clover, making it an ideal component in a pasture renewal system.
For Craig and Kelly, the combination of the later-maturing Cleancrop bulb turnip complements their area of earlier-maturing Barkant. "We find the later-maturing Cleancrop bulb turnip helps hold bulb and leaf quality over the hotter part of the summer and really balances the area of Barkant," says Craig.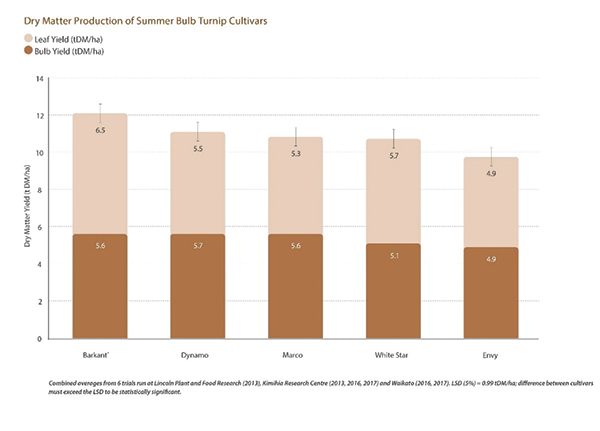 For more information on Barkant or to discuss what Cleancrop™ Bulb Turnip could offer, talk to your local TSR or visit your local Farm Source store.