Automatic teat spray unit saves time and money
22 April 2019
10 / 10 People found this article helpful
Southland dairy farmer Graham Hand installed GEA's FIL Auto Mix + Spray unit so he'd have an accurately-mixed teat spray solution on hand for an entire season and wouldn't have to touch it. Six months in, it hasn't faulted. More importantly, he's saving money.
Milking 1,050 cows with a team of five staff, Graham is always interested in solutions for better efficiency. He recently upgraded to the GEA iFlow rotary platform with iPUD automatic teat spray units in each bale.
The intelligent new FIL Auto Mix + Spray unit adds further automation, dispensing 'fresh' and accurately-mixed solution every milking.
Achieving an accurate ratio of teat spray, emollient and water is a critical factor for maintaining teat condition, says FIL National Manager Colin May.
"Farmers may be using the best products, but teat spray solutions can vary widely depending on who does the mixing and their level of understanding of what's required to combat seasonal differences," explains Colin.
"Most teat sprays suggest a ratio mix like one to six or one to nine, which can be confusing. Adding extra emollient adds yet another level of complexity.
"The Auto Mix + Spray has 97 percent accuracy and takes human error and guesswork out of hand mixing. Rates can be locked into the Auto Mix + Spray memory for daily use until it's time to select a different ratio."
When environmental conditions change, or a deterioration in teat condition is detected, the Auto Mix + Spray settings can be altered by single percentage ratios (between five and 20 percent) to counter negative influences on teat condition.
Graham is impressed with the reliability of the Auto Mix & Spray so far. "We have it hooked up to a 1,000-litre pod with the ratios locked in. We haven't really thought about it since.
"It's creating savings in both time and labour. More importantly though, it's a big cost saver. I've noticed we're going through much less solution, yet we're using the same mix ratios and application rates as before," he says.
The unit is pressurised, meaning it can be retrofitted into any existing teat spraying system or used as a standalone.
"Installation was easy, I didn't even notice the guys had been and gone," confirms Graham.
The Auto Mix + Spray takes the teat spray from the drum directly to the cow, so teat spray is mixed and applied 'fresh' every milking. Although not an issue for Graham, this is especially good where there's poor water quality on farm as there's a minimal chance of that water compromising the active ingredients.
Interested in teat spray automation and more savings? Sign up for a three-year GEA FIL Teat Care Programme and get the Auto Mix + Spray installed for $2,539. Save $1,720!*
*Terms and conditions apply. See fil.co.nz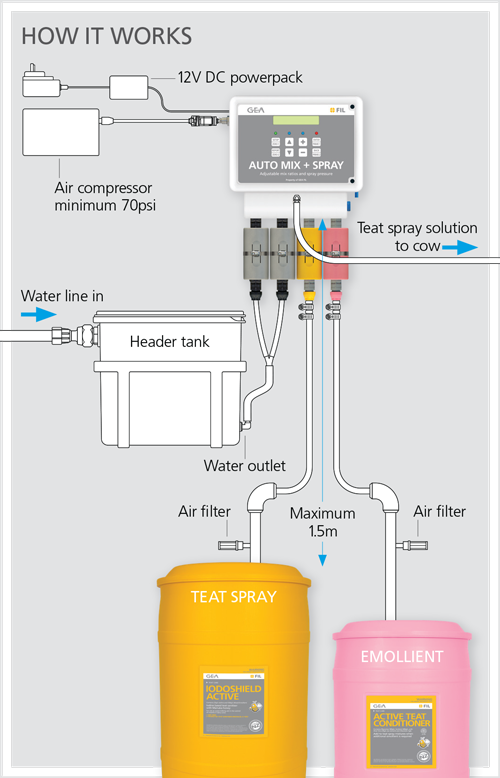 The Auto Mix + Spray takes the teat spray from the drum directly to the cow, so teat spray is mixed and applied 'fresh' every milking.
For more information, talk to your local Farm Source TSR or visit fil.co.nz.
Article supplied by GEA | FIL