Cooperia the insidious appetite killer
25 February 2019
Anyone with young dairy or beef cattle will know internal parasites can impact productivity and growth rates, with autumn being a key period of concern.
It is the time of year when internal worm species are on the rise with Cooperia species being particularly prevalent. In New Zealand, many drenches are ineffective against this species of worm so it's important to consider how to drench younger cattle over 60 kilograms (kg) bodyweight using the best protection available.
The main impact a Cooperia infestation is likely to have on productivity is a reduction in appetite. Changes in grazing behaviour have been demonstrated in scientific studies where naturally-infected animals spent less time grazing than non-infected herd mates1. There is scientific and anecdotal evidence that left unchecked Cooperia can lead to lost production and clinical diseases such as scouring and ill thrift2.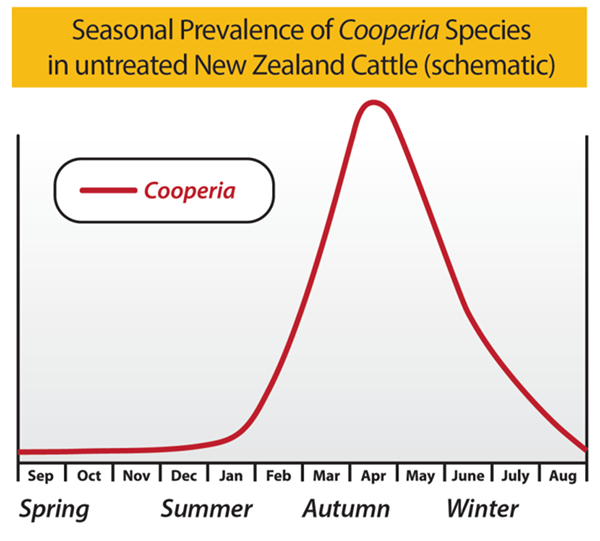 One of the reasons for the prominence of Cooperia is the widespread development of drench resistance to formulations of various actives (i.e. abamectin, doramectin, eprinomectin, moxidectin)3.
Fortunately, levamisole is still highly effective against this worm. However, by itself levamisole will provide limited protection against some other production-limiting worm species. Using a combination of levamisole, together with a potent macrocyclic lactone (ML) such as abamectin, will therefore offer young cattle protection from all the important internal production-limiting worms.
To combat both the high worm challenge and Cooperia resistance, a combination drench such as Outlaw Pour-on is extremely effective. Both levamisole and abamectin target intestinal parasites, with levamisole also targeting ML-resistant Cooperia, and abamectin taking care of the Ostertagia which can evade the short-acting levamisole component by burrowing into the stomach wall.
Outlaw Pour-on combination is ideally suited for easy application and offers young cattle over 60kg bodyweight protection from the major internal, production-limiting parasites including ML-resistant Cooperia species.
Outlaw Pour-on features:
Convenient low volume, pour-on, easy-to-apply formulation
Double active combination delivering full abamectin and levamisole doses
Highly effective against Cooperia spp resistant to the endectocides (ML Resistant)
Ideal for young cattle over 60kg bodyweight and dairy cows at dry-off
For more information on Outlaw, talk to your local Farm Source TSR or visit your Farm Source store.
1Wormwise- National Worm management Strategy 2017
2Bert E. Stromberg, Louis C. Gasbarre, Audie Waite, David T. Bechtol, Michael S. Brown, Nicholas A. Robinson, Erik J. Olson, Harold Newcomb. Cooperia punctata: Effect on cattle productivity? Veterinary Parasitology 183 (2012) 284– 291
3J.J. Vermunt , D.M. West & W.E. Pomroy. Inefficacy of Moxidectin and Doramectin against Ivermectin-resistant Cooperia spp. Of cattle In New Zealand. New Zealand Veterinary Journal Vol. 44 1996 pg 188-193.
Article supplied by Bayer