Calves deserve good quality colostrum
1 July 2021
<!Calves deserve good quality colostrum?>
You can't beat the goodness of feeding fresh colostrum and whole milk for calf health and development.
It is important to maintain the integrity of the milk, and that's why Nutrimol Colostrum Keeper is specifically designed to preserve the goodness of this unique feed source without destroying the essential feed components.
Colostrum is naturally high in protein which can break down to toxic amines and other substances if not preserved. Loss of amino acids via this process reduces the nutritional value of this product for calves. Bacterial proliferation and harmful bacterium like salmonella and coliforms are bad for both colostrum quality and young calves. Nutrimol Colostrum Keeper is an easy-to-use liquid that mixes well into small or large volumes of milk. Follow the simple instructions on the label to achieve successful storage of colostrum and whole milk.
Achieving longevity of your colostrum
Treat fresh colostrum or whole milk immediately to ensure storage qualities are maintained.
Always stir Nutrimol Colostrum Keeper well into the milk source, adding slowly as your stir.
Stir treated milk twice a day. Do not agitate vigorously for long periods of time.
When adding more colostrum or whole milk to the existing treated milk, stir-in additional Nutrimol Colostrum Keeper at the appropriate volume/ratio to the volume of milk added.
Store treated milk in a cool place away from direct sunlight.
Ensure vessels, milk stirrers and other equipment are clean before using.
Clotting may occur but the milk is usable.
Do not heat treated milk to temperatures above 40°.
To acidify calf milk to a pH level that helps prevent the spread of Mycoplasma bovis, refer to label for instructions.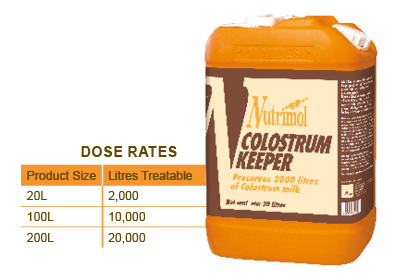 For more information on Nutrimol Colostrum Keeper, talk to your local Technical Sales Rep or visit your Fonterra Farm Source store.
Article supplied by Bell-Booth Ltd.