Turn up the heat on your submission rate
1 August 2021
<!Turn up the heat on your submission rate?>
The rate of empty cows is impacting farm profitability. So, the question on the table is what we can do to reverse this trend?
Spring 2020 mating proved to be challenging for many herds, with not-in-calf results showing no improvement. Even though weather and pasture growing conditions appeared perfect, the national average not-in-calf rate is 16.3%.
There is such a short period between calving and the planned start of mating that cows need to be supported to encourage heat strength and length. Starting a Nutrimol 4n1 Turn Up The Heat dosing regime 30 to 60 days before the planned start of mating provides essential compounds to encourage hormone production.
The programme drives submission rates to allow 90% of the herd to be submitted by the end of the first three weeks of artificial breeding (AB). By achieving 4.3% of the herd 'put up' every day, the likelihood of securing a respectable six-week in-calf rate is dramatically increased.
For a 400-cow herd, the expectation is that 17-18 cows will be submitted for insemination every day during the first 21 days of mating.
Two or more heats between calving and the start of mating again increase the chances of successful inseminations. Immune function activity and the control of metabolic issues all go a long way to improving reproduction performance.
Good reproductive performance is a crucial driver of on-farm profitability. For every one percent of improvement in the six-week in-calf rate, a farmer can expect at least a $4 per cow increase in perating profit based on the DairyNZ Gap Calculator. For every one percent decrease in the empty rate, an additional profit of $10 per cow.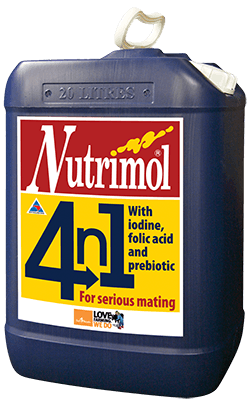 Best practices to support reproduction outcomes
Drive heat strength
For best results, start dosing Nutrimol 4n1 from calving at five millilitres (mL) per cow per day. Increase the dose rate at least 30 days prior to the planned start of mating (PSM) to seven mL/cow/day and continue until 60 days after the end of mating.
Support late calving cows and non-cyclers
To assist late calving and non-cycling cows, dose a single anti-shock dose of 50mL/cow Nutrimol 4n1 to encourage hormone production. Continue dosing seven mL/cow/day during the mating period.
Focus on mating
With the average mating length around 10.5-11 weeks, stay focused on the long game. Continue dosing Nutrimol 4n1 until 60 days after the end of mating, at which time you can reduce the rate to five mL/cow/day over the hot summer months or cease daily dosing.
Economics
Starting from $7.90 + gst/cow/programme the cost of an empty cow outweighs the investment in a Nutrimol 4n1 Turn Up the Heat mating programme.
For more information on Nutrimol 4n1, talk to your local Technical Sales Rep or visit your local Farm Source store.
Article supplied by Bell-Booth.