Appetite for Education - Farm 4 Life Hub
1 August 2022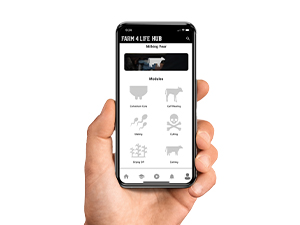 On a mission to change the way people learn, Tangaroa Walker has developed a learning platform with a curated digital catalogue of videos that cover everything related to dairy farming. His entertaining methods make it easy to understand and he hopes to inspire people into farming and develop their skills further.

It started as a social media channel to inform the shareholders of the Southland farm that he contract milks on. Now Tangaroa Walker has evolved the Farm 4 Life Hub into an educational resource to support people entering the dairy sector.

"This is an exciting video learning platform that gives users NZQA qualifications," Tangaroa says. "We've also made the platform free so that more people can access it. There are a lot of whānau out there with a good attitude who haven't had the tools there to help them."

Tangaroa explains resources such as these are desperately needed for people like him, who struggle to read and write and don't absorb anything in a traditional classroom environment. He has teamed up with Telford, the Southern Institute of Technology's agricultural campus. Together, they are building the material that will help learners gain credits towards a Certificate in Farming Systems and Equipment (Level 3) Dairy strand.

Originally from Tauranga, he had some rough experiences early in life but was fortunate to be introduced to dairy farming by his uncle. When he was 18 he set a goal to own his own farm and was told he better go to Southland where it's cheap to grow grass, so he turned to Farm Source Jobs and made the big move.

He was nudged into social media after winning the Ahuwhenua Young Māori Farmer of the year, although he didn't think people would find him interesting. Now it's the engagement that really drives him. He loves the positive feedback, particularly when someone thanks him for teaching them or inspiring them to consider farming.

"That's what it's all about for me. I love this industry and I want to share the passion. The power of social media is unreal. Spreading knowledge can reach a million people so easily, but if I can help someone, teach him to do one thing with a video, it's all worthwhile for me."

He calls his methods edutainment. He uses light-hearted videos showcasing the 'how' and 'why' of all things dairy farming. His relaxed delivery and how he portrays the realities make it easy for people to understand and the option for people to choose if they want NZQA qualifications will mean learners can verify their abilities and build their CV.

"If someone was delivering this kind of content when I was coming through the industry it would have fast-tracked my career by a couple of years."

Being an app gives people the tools in their pocket to learn when it suits them, or to look something up when it becomes relevant. Tangaroa and the growing Farm 4 Life team are on a mission to change the way people learn and understand dairy farming.

"People think dairy farming is just about cupping cows, but there's so much more to it than that. We are aiming to do it the best possible way we can and we need great, educated people."

Download the free app and find out more at farm4life.co.nz.