Catchment communities key in agri and environmental advocacy
1 July 2021
<!Catchment communities key in agri and environmental advocacy?>
With a father in the police force and a mother who worked in retail, Trish Rankin's passion for people and the environment dates back to her childhood. From a young age, her whole life has been based around service to tourists and the community. Now with children of her own, Trish balances the emotion of service with a knack for problem solving and guiding other farmers through change.
Supporting her Taranaki community and farmers nationwide who aim to do better every day, Trish has become known throughout the agri sector for her environmental advocate roles as a Climate Change Ambassador with DairyNZ, a New Zealand Dairy Environment Leader (DEL), and, most recently, a Project Coordinator for the Taranaki Catchment Communities (TCC) Group Sustainable Land Use Project.
"I've been lucky to be offered a range of roles, mainly because I have met some amazing people who help make it happen for me," says the Dairy Women's Network Trustee, who has found that saying yes to one role often leads to another.
Case in point: her recent appointment as the Associate Trustee of AGMARDT. "Doing TCC has shown that the jigsaw approach I've taken, where I have just said yes to opportunities and ended up doing a variety of things with a variety of people, has really identified where my skill level is. I like to solve problems.
"So whether it's being a Trustee for DWN, or the TCC project facilitator, or attending events and workshops, I feel like these jigsaw pieces are really starting to come together to enable me to really help our farming community piece together the challenges of farming and build a strong picture, together."
The TCC Group Trish mentions is a farmer-led and farmer-driven incorporated society in Taranaki that creates small rural catchment groups. These groups then work together to revitalise local farms and support each other in implementing new regulations.
With the initial plan to engage Taranaki communities and lay the groundwork for eight groups of existing farmers in the region, Trish has smashed it out of the park with 14 groups set up already, another few in the pipeline and connections formed with Taranaki Regional Council, DairyNZ and Beef + Lamb. She's blown away by the amount of support they have received from different sectors and stakeholders.
"There is a real demand and drive in communities to work with each other's strengths and needs. Having farmers go to organisations with a clear plan of what they need has really encouraged different sectors and stakeholders to come together. I've got DairyNZ and Beef + Lamb going 'tell us what you need and we'll create solutions for you', because they've heard and understood what I've told them from meeting with farmers on the ground."
And it was on the ground where Trish realised the extent of the struggles that farmers are facing. "TCC pushed me out of my comfort boundaries a bit to start with because I was turning up to hill country Eastern Taranaki to meet with sheep and beef farmers, and I'm from the flat green land of Taranaki. But when I walked into a hall of 35 sheep and beefies I felt their pain. I saw how stressed they are about having to fence waterways, do planting and have reticulated water systems, and I have a newfound appreciation for what it's like to not even know where to start."
As Trish points out, farmers are facing new demands from dairy consumers every day. No sooner do they begin working on one new regulation or policy and another pops up. In the worst-case scenarios, farms are dealing with siloed requirements around fresh water, GHG, FEPs and nutrients as individual things to address, as well as keeping on top of Fresh Water Policy statements, He Waka Eke Noa, the Dairy Tomorrow Strategy and Regional Council plans, just to name a few.
Taranaki regulations around waterway fencing and planting riparian margins have been in effect for 25 years for dairy farmers – in the world's biggest stream restoration project – but sheep and beef farmers in the region are still facing what may seem like an insurmountable problem to most, and the challenge behind the catchment group model is how to meet farmers at every stage of the journey. Trish has found that farmers are always willing to share knowledge and work together for the future, even if it takes a bit of shock-factor to get them there.
"I've had a dairy farmer at a meeting ask the sheep and beef guys if they lose animals in a flood or why they don't want to keep their stock out of the water, and these sheep and beefies haven't even had fencing waterways on their radar before. These guys have turned up in the room because they want to be part of the journey, but they're starting at a different point than us. I've also had people at meetings ask, 'what if my farm isn't having an impact, why should I change?' and others in the room reply for me, explaining that it doesn't matter if you logically or scientifically think you are or aren't having an impact, our consumers and community want us to improve so that is what we have to do. In one of the first workshops I run, I include questions like 'what do you want your community to look like in five, or ten, or twenty years?', and then follow it up with 'what if we don't do anything different to what we're doing now?'. It then becomes pretty clear to everyone in the room that there is no option to do nothing, we have to work together."
As a passionate environmental spokesperson in the agri industry, Trish understands more than anyone the risk that not following regulations can have on a farmer's profile. She and her farm are often held at a certain standard, in part due to regulations from the owners of her current farm – "nitrogen caps, don't bury anything because of whenua, recycle, all the things I preach and praise about anyway".
But Trish's own experiences enable her to understand and connect with the emotions of other farmers in the region. She can sympathise with their frustration, which helps her to guide sheep and beef farmers, and dairy farmers who are new to freshwater, fencing and planting issues, through the challenges of policy change.
The next step for the TCC Group depends on funding from MPI but she is confident that they will get funding to engage local farmers to facilitate each catchment group. Trish will work with the facilitators herself and provide support as the groups work toward their business, community, farming and environmental goals.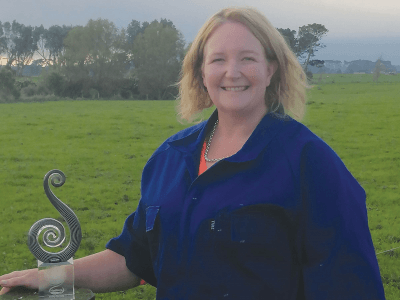 "I know what the problems are now. I've heard it from the farmers on the ground and I've felt the emotion in the room through TCC. Now I can work with organisations to plan how to sort them out, fix them for the farmers and provide the right support."
And while Trish's roles on the ground and at the board table are complementary, forming her jigsaw approach to problem-solving in the agri industry and enabling her to influence some of the solutions and opportunities available, she is equally passionate about letting farmers take charge themselves.
"Farmers leading their own path to improvement is far more powerful than being told what to do by an outside government or levy body..."
If we set the end goal and let farmers drive this change for their own farm as an independent part of their community, it will happen.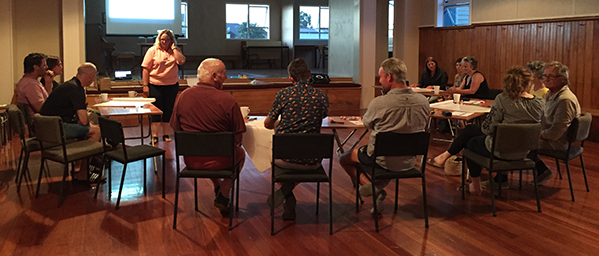 Article supplied by the Dairy Women's Network.