Celebrating our volunteers, from on-farm to industry-facing
1 November 2021
<!Celebrating our volunteers, from on-farm to industry-facing?>
We volunteer for many different reasons. For a purpose, for connection, or to feel valued. To make a difference to our community because, as farmers or rural professionals, we have the flexibility and the means to do so. And the women behind Dairy Women's Network's (DWN) events, workshops, conferences, Business Groups and Regional Groups show just how much can be gained from stepping out of your comfort zone and into a volunteer role.
Meet Donna Griggs
When she's not on her Kaipara dairy farm, you can find Donna offering riding lessons to a neighbour's son. Helping with fundraisers for her children's school. Taking the time to connect and check-in with everyone in her rural community.
It was second nature for her to join DWN as a volunteer Regional Leader a decade ago. And it was second nature to share the honour of winning the Regional Leader of the Year Award with the rest of her "nationwide family".
Meet Nicola Bryant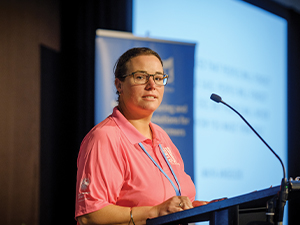 Already volunteering as a Regional Leader in Taranaki for DWN and heavily involved in her community, Nicola was armed with grassroots knowledge when she stepped up into the Regional Chair role for the DWN2021 conference in Taup earlier this year. She brought fresh ideas that pushed boundaries and created one of the most successful DWN conferences to date.
"Saying yes to that experience taught me to believe in myself more," explains Nicola, who put her hand up again for the North Island Regional Chair role for next year's conference. Admitting she's more of a behind-the-scenes volunteer, her involvement with the 2021 conference led her to seize every opportunity she could to take herself and her farm business that extra step, and to build relationships within her rural community.
All volunteers
As women, we understand the juggle between managing the farm business, the team and your family. Our volunteers work behind the scenes to deliver opportunities for connection and upskilling in a way that fits with your busy schedules. They are the link between every dairy farmer and rural professional in their community. The grassroots voice at industry tables. The advocates for you and your people.
So the next time you head along to a DWN event, think about the women at the front of the room. Their roles within the industry, and the self-confidence they've gained from stepping up to guide other dairy women. Think about how happy they are to be there, supporting you on your own journey, and celebrate them with a nomination for the Regional Leader of the Year award for 2022. Because a kind word can go a long way and it's second nature for our volunteers to dedicate their time to you.
Nominations now open
Nominate a volunteer Regional Leader that demonstrates inspiration and excellence at grass roots.
Nominate before March 2022 at dwn.co.nz/regional-leader-of-the-year.