Fonterra's decisive win against Parliament First XV in Rugby #Floodraiser
1 September 2021
<!Fonterra's decisive win against Parliament First XV in Rugby #Floodraiser?>
Stunning weather in Ashburton on Sunday 16 August set the scene for a showstopper of a rugby game that saw over $100,000 raised for the Rural Support Trust to support flood-affected South Island farmers.
The Fonterra Good Together Team took out the charity match with a winning score of 51-10 against the Parliamentary Team. Though the score might say otherwise, everyone was a winner on the day.
Our stand-out team of farmers, ex All Blacks, NPC players, employees, friends and family, more than held their own to the delight of the large crowd who poured into the grounds for the event.
Speaking to Newshub after the game, Fonterra team Coach Scott 'Razor' Robertson said that it was a good game of rugby, with a result of "50 points, a few penalties and no cards".
The first quarter break saw the next generation's skills in the under-five's running race, with prizes of rugby balls and chocolate bars causing even more excitement than the grand-prize of a miniature ride-on John Deere tractor.
Throughout the game there were opportunities for everyone to get involved and win prizes. There were some valiant attempts to kick a ball into the back of a Farm Source ute, a gumboot throwing competition (where the kids threw more boots in the right direction than the adults), spot prizes and a farmer quiz.
Even the Minister for Agriculture, Damien O'Connor, got involved in the Primo chugging competition.
After the game players stayed on the field to sign autographs for the kids and chat with farmers and locals who congratulated them on a great game.
Former All Black Aaron Mauger summed up the sentiment of the day, "A bit of hardship suffered from the local community a few months ago through the floods so yeah nah it's great to be able to contribute to the fundraising."
A huge thanks to all our very generous sponsors who helped make the event a success. Without their support for the #Floodraiser Trade Me auction and wonderful support on the day, we never could have raised so much for the cause. Case IH donated $100 for every point scored by the Fonterra Good Together Team - which no doubt added to the players' motivation to win.
All proceeds from the event were donated to the Rural Support Trust. The organisation uses their expertise and resources to assist rural individuals and communities during and after extreme weather and other adverse events.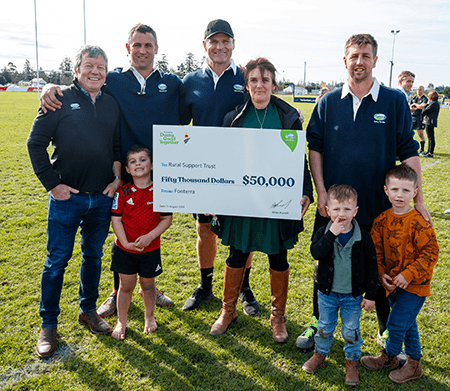 From left: Fonterra Director Andy Macfarlane, Angus Dampney (front), Jon Dampney (Fonterra captain and farmer), Scott Robertson (coach), Fonterra Director Leonie Guiney, Josh Dondertman (chair of Mid Canterbury Rural Support Trust) and his sons George and Albie.