Get to know Rob Bickerdike, Farm Source Digital Marketing Manager
1 October 2021
<!Get to know Rob Bickerdike, Farm Source Digital Marketing Manager?>
Over 18 months on from the announcement New Zealand would be moving into Alert Level 4 lockdown, the country was back there again last month. Speaking to Digital Marketing Manager Rob Bickerdike on the day all those south of the Bombay Hills moved to Alert Level 3, it was a busy time but he spoke highly of how the Farm Source store teams pivoted back to only click and collect and delivery services.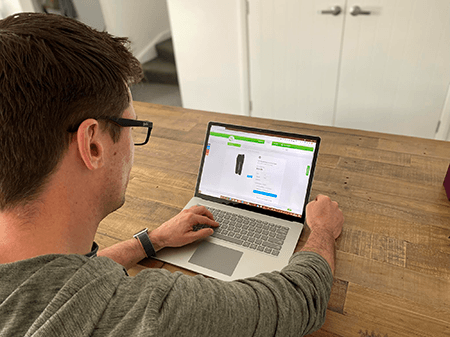 As an essential service, Farm Source remains open under all alert levels, offering online orders with contactless collection and delivery services. Looking at the website traffic, farmers are taking full advantage of the ability to continue their on-farm work.
Farm Source's click and collect service really became a focus in 2020's lockdown. Farm Source were already on that journey, allowing for just some fine tuning to keep up with the sudden increased demand.
"In the previous lockdown, everything had been uncertain but Click & Collect was already a space we had invested in and after a few tweaks we were able to meet the demand and embrace new ways of working," Rob says. "This latest lockdown is simpler, we have the learnings from last time, we know we have the right set up, and we know we will get through. Our farmers don't stop working and neither do we."
Joining Farm Source in June of 2020, Rob came on to lead the Digital Marketing team, to continue the digital momentum focussed on customer experience and how that digital experience operates and connects within all aspects of Farm Source and its stores.
Prior to Farm Source, Rob had been the Head of Digital and Data at Auckland Airport, but as he puts it "Covid's impact on the airport was fast and extreme." And while an airport and rural retailer may seem like different worlds, he says customer experience is at the core of both. Making the move, Rob could see that farmers wanted to connect with Farm Source in a personal way and digital was key to doing that.
By the time he joined the team, New Zealand had come through the lockdown and Farm Source physical stores were starting to open up with farmers once again making transactions in-store at checkout.
While stores remain as relevant as ever for farmers to engage with Farm Source store teams to discuss their unique situations, the delivery and click and collect services have continued to be a valuable asset to farmers as they have become accustomed to new ways of engaging.
"Farmers enjoy our personal relationship and continue to come into store chat with staff - they're the go-to for a solution to a tricky issue," Rob says.
"Digital enhances those conversations by enabling farmers to research products and services so they can have informed discussions with our store teams."
Rob and the team also see a trend in farmers shopping online for regular, bigger, or sundry orders to guarantee the supply is in their store for collection, and then shopping in-store for more specialised or customised items. It's these insights Rob and the team use to make sure the digital and in-store experiences align.
He gives the example of making sure farmers can go online and easily navigate their way to specific products they are after, while also not missing out on seeing a range of products that might also suit their needs.
"It's not about the website taking away from the stores, it's about enhancing the whole experience for farmers."
Rob's team look after retail engagement through email, SMS, social media and e-commerce. Beyond the online retail engagement, they also manage the other digital communications from Farm Source and focus on engaging farmers across the Farm Source channels.
"My team is focused on using digital to be the easiest rural supplier to deal with by delivering the best digital experience to farmers."
That goal to be the easiest supplier to deal with is a huge motivator as customer expectations are forever evolving with online retail becoming the new norm in other categories.
"People get used to engaging online, they do it for everything from their banking to their grocery delivery. We need to make sure we match that experience when it comes to engaging with us for their farming operations," Rob says.
"We need to keep evolving, just as our customers' expectations do."
Another way Farm Source has enhanced the retail experience is through the data and the insights into what a farmer may or may not be interested in.
"We know our farmers well and we are looking at ways to bring all the relevant data together to support their personal journey with us in a range of ways. For example, we could highlight products they have previously purchased, and send personalised, relevant communications."
And while personalised digital communications aren't quite the same as talking to an Area Manager or TSR on farm, Rob says that personalisation in the digital space is about continuing the one-to-one personal relationship farmers experience in other aspects of their engagement with Farm Source.
Now over a year into his job, and another lockdown under his belt, Rob is looking forward to where that farmer journey experience leads to next.
"We have been fortunate with direction and focus over the years. We have a drive to continue to be forward-thinking so when needs change and our farmers' expectations change, we can be flexible and meet the farmers where they are."