Lessons learnt from going organic
1 October 2021
<!Lessons learnt from going organic?>
Running an organic farm, Rob Bargh has found biostimulants are the key to good health across all aspects of the farm.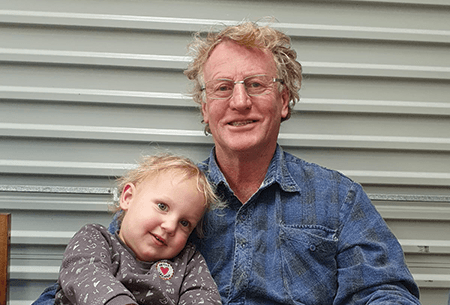 Feeling sick when using paraquat was the primary motivator for Rob Bargh to look for alternative solutions for his South Wairarapa family business, Te Pare Farm.
"I just didn't like it," Rob says of the herbicide he was using.
Farmers have plenty of options when it comes to crop and pasture inputs, and biostimulants are emerging as a technology to help farmers meet the demand for feed grown on farm - and nitrogen (N) restrictions.
What are biostimulants?
Biostimulants are materials other than fertilisers, promoting plant growth when applied in low quantities.
A researcher and reader, Rob initially had to follow his gut instinct when taking his herd into regenerative organic farming with encouragement from his wife, brothers and father, and the help of products including cider vinegar, vermicast, homeopathy, and - still relied upon to this day - seaweed.
AgriSea's biostimulant range is what Rob now uses to meet his on-farm requirements. Rob wanted a local organic product, and AgriSea's products from sustainably harvested beach cast of a native New Zealand species, Ecklonia radiata, deliver that.
He uses the AgriSea biostimulant range in both solid and liquid form.
"We've been an organic farm for a long time. We were Fonterra's first pick-up back in about 2000. We've just followed the whole thing through from there on, and there's been good times and bad, but we've been certified the whole time."
Growing more food on-farm with fewer inputs is something organic farmers are well versed in, however, farmers across New Zealand are also picking up on these farming strategies to ensure they have resilient and profitable systems.
Rob can now reflect on what a challenge it was in the early years while learning to farm with restricted access to products.
"As the problems came up, I didn't think I would survive with things like mastitis because I didn't have any antibiotics to cure them with. In those years, we were pulling our hair out thinking 'how are we going to get through this?'. But then I discovered a lot of people were also having problems using conventional methods too."
Vigorous root systems and relationships with beneficial soil biology are essential for maximising the ability of crop and pasture plants to obtain N, phosphorus (P), potassium (K), sulfur (S), calcium (Ca), magnesium (Mg) and a wide variety of trace elements.
Te Pare Farms soil test every two years across the farm and Gavin Robertson Taranaki/Lower North Island Area Field Consultant from AgriSea supports his farm nutrient planning.
On the paddocks, the farm receives applications of AgriSea Pasture Nutrition at five litres per hectare (L/ha) and Ocean Nutrition - a new Fish Hydrolysate product - along with RPR and vermicast from another supplier. The benefit of solid fertiliser is it can also be mixed with AgriSea Combo +, a solid form of AgriSea biostimulant Rob also uses.
And Rob's use of AgriSea products continues when it comes to his animal health.
"Cider vinegar in the trough would lead to big numbers clearing their mastitis, at times 60 cows in the treatment mob getting back to health, and we used AgriSea Animal Nutrition in the water supply as a cure."
Early indications from recent research at Lincoln University suggest that dairy cows being treated with AgriSea Animal Nutrition have improved rumen fermentation, body condition score (BCS) and increased animal health.
"It's not always been easy, but it's very satisfying. The cows are in pretty good shape. We milk once a day and they have lovely shiny coats and are nice cows. We do blood tests twice a year to make sure we have the right amounts of selenium (Se) and sometimes have to supplement it in our water supply. We do whatever other dairy farmers do."
Rob says ensuring his staff are looked after is also part of the philosophy on farm, and he's only had one staff member leave in eight years.
"If someone is unhappy in the shed, the cows won't be happy. Calm staff means happy cows."
Te Pare Farms was certified with BioGro in 2002, USDA certified in 2005 and reached a record 248,000 kilograms of milk solids (kg/MS) from 760 cows.
Rob never pushes others to go organic, but when asked, advises good advice, commitment and perseverance are key.
"You need to have your mindset in it and have that commitment."
There are also many techniques that can be learnt from an organic perspective and applied to all farms. Across the globe, biostimulants are being used to help farmers' farm profitability, now and into the future.
Remember: please make sure any products to be used on Organic Farms have CB approval for the intended use.
How biostimulants can help you
The key to productive and profitable farming is to support a healthy functioning soil environment by using biology-friendly products or biostimulants in your farm system.
Environmental resilience

Biostimulants promote enhanced germination and root development, meaning better nutrient and water uptake throughout the growing season.

Increase grain fill and quality

Promoting development and improving a plant's metabolism can benefit the growth and health of a plant. Ensuring a biological catalyst at important stages can lead to increased yield, improved uniformity and crop quality.

Encourage plant growth

Operating through a different mode of action than standard fertilisers, biostimulants are applied in low quantities. Biostimulants can provide support for plant metabolism and microbial communities which, in turn, enhance root and shoot growth, along with reproductive development and timing.

Fitting into your current system:

AgriSea biostimulants can be incorporated with your current fertiliser program in either a liquid or solid format.
Article supplied by Agrisea.