Get your pastures off to a good start
1 September 2021
<!Get your pastures off to a good start?>
On the outskirts of Hamilton in Puketaha, Luke Clausen and his wife farm a 430-cow operation, including leasing the neighbour's farm. It's a big job, but with Ballance Agri-Nutrients SustaiN, they don't let the weather get in the way.
A characteristic of the region, the average rainfall is 1,100 millimeters (mm) with the climate dictated by the nearby Kaimai Ranges and city.
"You can get the rain that sometimes, other people don't get," Luke says, but last year, the rain only came to 970mm. "It was a dry summer, but it did remain green with the rain that did come through."
That green still required plenty of supplement and not leaving anything to chance, Luke used spring's high growth rates to protect him later in the season. "You just always make sure you've got food on hand for the worst-case scenario. You don't hope for the best you plan for the worst."
His solution is to follow behind the cows with a nitrogen (N)-based product as a building block to promote growth. However, finding the right product has seen some trial and error as the weather proved a challenge.
"Last year, I did get caught out because I used urea and the patches in between the rain were longer than I had anticipated and longer than was seasonally normal. I did lose some yield from that."
Learning from the experience and with guidance from his local TSR Nick Anderson, Luke turned to Ballance SustaiN, allowing them to follow the cows while not being at the mercy of the weather. "It's a lot more user-friendly in that respect and in that context," Luke says. "While it's not that I find we have better yields from using SustaiN, what I do find is we don't lose yields like we have from using standard urea."
Without being at the mercy of the weather, Luke enjoys being able to spread on a Friday, knowing that it may or may not be raining on Sunday or Monday morning. "The flexibility that SustaiN offers helps me sleep at night. I hate wasting money and I hate wasting time."
Along with Nick helping Luke in the decision to implement SustaiN was Julie-Beth Mikkelsen (otherwise known as JB), a Ballance Nutrient Specialist based in Morrinsville who he's since turned to for further advice. "This year it was around my experience with nitrate poisoning and having worries about it. It's only been my second year sharemilking and I've been more nervous and been more cautious with the animals being my own."
When Luke tested the grass to find high nitrate levels, JB was able to provide information from DairyNZ that he needed to make decisions with confidence.Between Nick and JB Luke has got himself a great resource to tap in to. When Luke was looking at leasing the neighbour's farm, Nick was a handy person to have around.
"I had a crop that I hadn't had any real experience with, and also had pastures that had a lot more weed presence than I was used to. Trying to get ahead of the situation and trying to make the best of the situation, I got Nick out and we went over the property before I even took on the lease. His relationship with the neighbour already existed, so it made for a very smooth conversation and a great outcome at the end of that day."
While Luke says most of his on-farm systems are "tried and true", it's brilliant to have someone there to pick their brain. "Nick's always got an answer and that answer is always food for thought or sometimes it's the perfect solution to my problem."
If only Nick had a solution for Luke's father-in-law spreading the SustaiN on his lawn, requiring him to mow it an extra couple of times thanks to the great growth.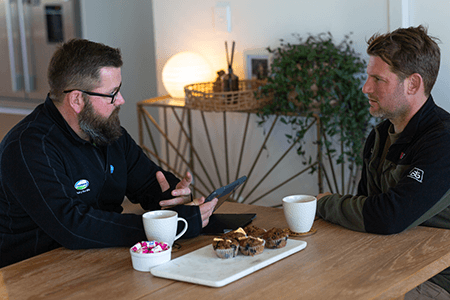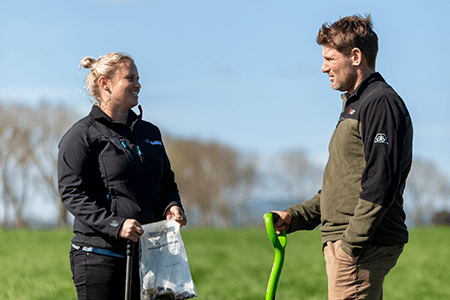 To find out which grasses or crops are best for your farm, book your FREE cropping or pasture plan this spring. Get in touch with your local TSR or call 0800 731 266.