Maintaining productive pasture
23 September 2020
When it comes to pasture and cropping there are lots of opinions, and lots of advice online. Not all of it is impartial, and not all of it is applicable to your farm. Your Farm Source Technical Sales Representative can help you separate the good advice from the bad and to help you make a plan that is right for your farm.
Productive pasture is key to a successful dairy farm. With so much to consider when planning, your local TSR is an essential tool ready to be used. They have the knowledge to suggest cropping options suited to local conditions and can even visit you on farm to make a recommendation about your pasture options. Our TSR's are out on-farm all year round talking with specialists, industry organisations and contractors in the field. They regularly receive information about the best pasture solutions for your area which take into account climate, soil type and the DairyNZ Forage Value Index.
Whether you are renewing pastures post crop or improving existing pasture, we have varieties to suit your situation.
Spraying out for pasture renewal
A thorough spray out prior to planting your spring pasture can greatly improve the cultivated seedbed and early establishment. For grass to grass, graze paddock hard to reduce weed cover allow the pasture to freshen up and spray out with at correct rate (according to the label).
Ensure plants are actively growing and have at least 5-10 cm of green leaf for effective glyphosate absorption.
Direct drill the required quantity of seed. Where cultivation is required or preferred, leave the paddock for a further seven days after the removal of the vegetation before cultivation commences. This will allow a faster breakdown of root material, making it easier to form a firm seedbed.
Managing weed burden for existing pasture
If you're looking for ways to get more out of your existing land and pasture this season, a herbicide spray programme may be just the solution you need.
Weeds like thistles, pennyroyal, water pepper, willow weed, buttercup, fleabane, hedge mustard and daisy germinate under existing pasture covers.
Once pastures are grazed, however, these weed seedlings and small plants are then exposed to sunlight and their growth takes off rapidly which will reduce the amount of quality pasture dry matter (DM) that can be grown productively in future seasons.
The best time to control weeds is between germination and flowering when they are growing fast and are still susceptible to herbicides. To get the best out of your spray application, graze paddocks before spraying to expose the target weeds, and to reduce clover leaf area which in turn minimises clover damage.
Let the paddock freshen for two to three days, and aim to spray as soon as possible thereafter, weather permitting.
Observe any withholding periods and restrictions before grazing treated pastures. Choosing the right product for your specific needs will come down to your weed species range, application method, clover selectivity requirements, timing, seasonality and location.
Undersowing into existing pasture and controlling weeds
Graze hard to remove as much cover as possible. Sow required seed, graze again 21 days later and keep pasture cover short to allow the establishment of the new grass and clover. Ideally clovers would not be drilled more than 1cm deep and ryegrass no more than 3cm deep. Sow mixtures at 1cm deep.
Controlling weeds after undersowing
The usual technique with undersowing is to graze the area hard and direct drill grass seed at about 12 kg/ha, using a hybrid or Italian ryegrass variety to provide fast feed over the winter months.
However, it is also common for many farmers to undersow with perennial ryegrass varieties. In either case, any paddocks open or damaged enough to warrant undersowing in the first place will also have a reasonable amount of weeds present. Once undersowing is completed, there is good opportunity for weed control.
After drilling, undersown pastures are unlikely to be grazed for 5 – 6 weeks, sometimes longer. At this stage the weeds will still be present and while spraying them to reduce the level of competition for the establishing seedling ryegrass is not usually practical, it does make sound economic sense to implement a spray programme after the first grazing, to protect what is a significant financial investment.
Pasture Condition
This tool helps determine what action to take to improve your pasture depending on its condition.
Assess each paddock on the farm and give a score from 1 to 5 using the photos and descriptions below. Consider the suggested actions* to develop an action plan for each paddock.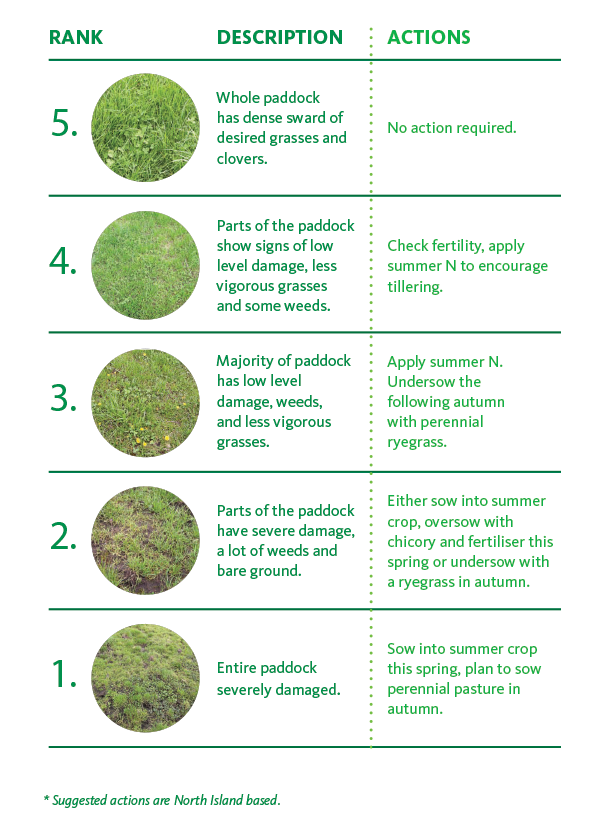 For more resources on everything pasture & cropping visit nzfarmsource.co.nz/spring