Measuring nitrogen leaching under maize
1 September 2021
<!Measuring nitrogen leaching under maize ?>
It's long been known that maize is a great farm systems tool for New Zealand farmers but until recently, there have been very few, if any, local trials designed specifically to measure nitrogen (N) loss under a maize silage-catch crop system using a typical maize growing management scenario. With an increasing focus on the environmental impact of farming, Pioneer believed that a better understanding of this topic would benefit the industry and give farmers the knowledge they needed to build more sustainable systems.
A multi-year N-leaching study was established in a long-term maize paddock in Waikato. The goal was to quantify the N leaching losses under a maize silage and cut and carry winter crop system and to identify the appropriate depth to measure N leaching losses under maize.
An array of ceramic sampling suction cups and barrel lysimeters were installed into the paddock prior to the establishment of maize. Some suction cups were placed at 70 centimetres (cm), which is a standard depth to measure N leaching under pasture and 120cm, a fairer representation of maize rooting depth. The lysimeters measure the amount of water that drains through the soil profile while the sampling cups measure the mineral N concentration of the water. Two similar experiments were also established on a different soil type at Ashley Dene (Canterbury) in conjunction with Lincoln University and Landcare Research.
During the summer, the area was planted in maize and in the winter, different catch crops (winter oats, annual ryegrass and a mix of both annual ryegrass and oats) were established alongside a fallow treatment which was left bare over the entire winter.
What did the trials show?
Total annual N under a maize silage plus catch crop system was less than 10 kilograms of N per hectare per year (kgN/ha/year).
Maize is extremely efficient at utilising N and less than 10 percent of the total N losses were recorded during the maize growing season.
Growing catch crops greatly reduced N leaching. In fact, the results showed up to 90 percent reduction in N losses when compared to those plots which had no winter crop.
Annual ryegrass was the most effective catch crop in Waikato while oats were the most effective in Canterbury.
N leaching losses at 70cm were about 3.5 times more than those measured at 120cm.
Figure 1 highlights the fact there was virtually no N lost under maize from October to May over the three-year trial. It also highlights the importance of a winter catch crop in greatly reducing N leaching.
To be viable in the long-term, New Zealand maize growers need production strategies that maintain or increase yields and profit while minimising environmental impacts. This research has proven maize is an environmentally sustainable crop with the capability to remove N at depth and that it records little to no N leaching during its growing cycle. This work also highlights the importance of planting a catch crop (such as annual ryegrass or oats) to mop up any available N over the winter, a vulnerable time of the year when soil moisture is high.
Research Manager Tania Gunn played an important role in helping to plan and establish the trial, collecting and analysing samples.
"It was an exciting project to be involved in because it has produced robust data that will benefit the whole dairy industry," she says.
"The maize plant can remove more N from greater depths than pasture can and that has to be a bonus for dairy farms especially for winter crop or effluent paddocks which often have a high nutrient loading. The winter crop research showed the importance of having something in the ground during the wetter part of the year. While the highest yielding crop will usually remove the most N, any crop will give a reduction in N leaching when compared to just having bare ground."
Pioneer plans to continue their investment in environmental research to help support the dairy industry as it comes under increasing regulatory pressure.
"We've conducted a large number of trials which show that, maize produces high yields of quality drymatter across a range of growing seasons and environments making it a really valuable cropping option for dairy farmers," Tania says. "The N leaching studies show that maize is also environmentally sustainable."

(Left) Test area planted with Maize in the summer. (Right) Test are planted with catch crops the following winter.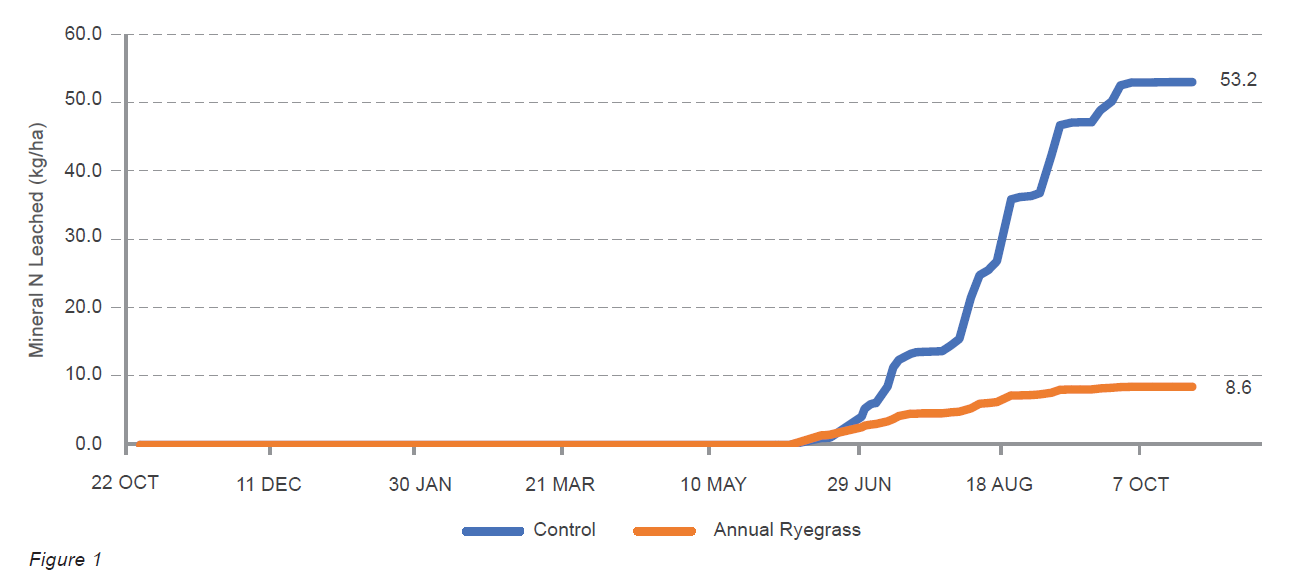 Article supplied by Pioneer.