Milking Trojan for all it's worth
22 October 2018
Getting the best out of a top growing perennial ryegrass at this time of year comes down to one simple step: graze it a few days before your other paddocks.
That's been the experience of two North Island farmers using Trojan NEA2 as they head into peak pasture growth for the current season.
Trojan NEA2 comes in the Farm Source Green Pack and is the only perennial ryegrass with maximum winter to summer ratings in the DairyNZ Forage Value Index (FVI).
On farm, this translates to much higher daily dry matter (DM) growth rates and, subsequently, faster return times for Trojan NEA2 paddocks compared to others, especially at key times of the season like now.
Kelly Sheely and Craig Garland have used Trojan since 2011 and everyone on their team has learned to watch it very closely. On the rare occasion it gets too long, Kelly calls the contractor to mow and bale it, even if only for a handful of bales.
"If we can't whip in and mow it, we set the herd numbers to the paddock size. We're quite prepared to take a hit in the vat for one day to make sure the residuals are right," she says.
Kelly and Craig are in their fourth season sharemilking for Zoetermeer Agriculture Limited on a 200hectare (ha) farm (150ha effective) in the Waikite Valley south of Rotorua. They spring calve, will peak milk 530 cows, and are aiming for total production of 240,000 kilograms (kg) milksolids (MS) on a System 3.
The pair – whose Farm Source TSR is Taryn Crotty - began using Trojan on a previous farm and quickly adapted their management to harness its unique growth potential.
"It can go absolutely ballistic in spring," Kelly says. "It's not a grass that you can afford to stop monitoring, because it can get away on you in five days. You'll look at a paddock today and say that will be ready for grazing in 10 days, then seven days later you take another look and realise the cows should have been in there already!"
She and Craig check Trojan paddocks frequently. Their staff also know to eyeball them as they're bringing the cows in, and they let Kelly know if a paddock looks ready to graze.
When well-managed, Trojan delivers like no other ryegrass can, she says.
At its maximum on the current farm, growth has hit 130kg DM/ha/day, and it can handle challenging conditions.
"Here we have wet and waterlogged paddocks during winter. The last place was dry and windy. We started using it there because it had a reputation for being tough."
"We needed a mixture of things. Whatever we used had to be persistent, but it also had to be something the cows actually like, and our cows love it.
"It's one of those grasses you put into your system and, as long as you manage it well, there's nothing else that will touch it."
Doug and Penny Storey of Te Awamutu agree getting the best out of Trojan takes a firm hand. In return, it copes well with their conditions, which include high humidity, dry summers, black beetle and sometimes wet winters.
Their target post-grazing residual for Trojan paddocks is 1600kg DM/ha and if it's not achieved, they don't hesitate to take corrective action.
"You have to be decisive!" Penny says. "It can change so quickly."
A post-grazing residual of 1800kg DM/ha, for example, is too long. The leaf is less palatable and there's too much fibre in the base. If that happens, the paddock is cut for silage.
At maximum daily growth rates, the return time for Trojan paddocks is 21 days, but even in winter they find it grows much faster than other pastures, and needs grazing every 26 days.
The Storeys pre-mow ahead of the cows every second round which helps maintain Trojan's quality, Penny says.
She and Doug split calve 500 cows on 160ha and two years ago moved from a System 5 to a System 3, seeking more homegrown feed and greater all-round sustainability. Average milk production is 550kg MS per cow, and they budget on 15 tonnes (t) DM pasture harvested a year. Their Farm Source TSR is Jarno Sammet in Te Awamutu.
They first planted Trojan in 2010, then diverted to tetraploids for a few years before returning to Trojan with 45ha of new Green Pack sown in autumn 2018.
"The tetraploids were great for a start, but we just weren't getting the persistence. We aim to re-grass every seven years, and they were starting to look sad after three," Doug explains.
Their original Trojan, now in its eighth season, is still going strong.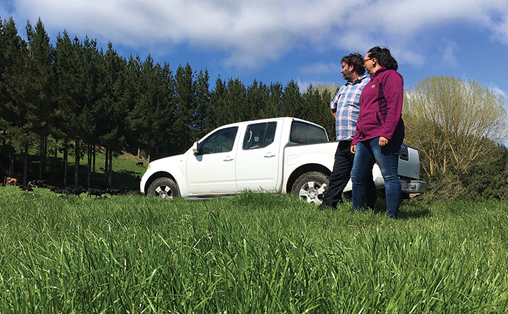 Kelly Sheely and Craig Garland of Waikite Valley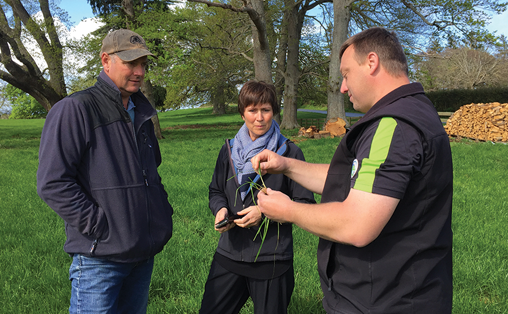 Doug and Penny Storey with Farm Source TSR Jarno Sammet.
To find out more, ask your Farm Source TSR, or visit your local Farm Source store.
Article supplied by Barenbrug Agriseeds