Waipahi sharemilkers see growth
1 September 2021
<!Waipahi sharemilkers see growth?>
With slow-growing pastures in a porina-prone area, Bryce Deal, a 50/50 sharemilker in Waipahi is seeing the positive impact Agricom's Mohaka is having on the property.
Bryce and his wife Lauren 50:50 sharemilk a 246 hectare (ha) effective dairy platform for Peter and Maree Hughes. Located in Waipahi, 20 minutes north of Gore, the couple run a system between two and three farms.
Alongside the 250ha property is an additional 90ha off to the side for young stock. Bryce describes the farm as quite challenging, with quite a lot of hill country. "We rely quite a lot on our grasses as our other pastures are a bit slower growing through the start of the spring period."
A solution has been found in Agricom's Mohaka, a dense, high-quality hybrid ryegrass. Recommended by local TSR Cristian Zavala Ruiz, Bryce uses Mohaka through the spring for its good growth.
"We rely on it for higher milk production and condition coming out of calving and then rely on it again later in the autumn for condition on cows before they dry off and go into winter-mode."
Cristian explains Mohaka is a broader leaved, well-tillered hybrid suited to two-to four-year pastures. "It's a mix between an Italian grass and perennial grass. The Italian grass aspect supports growth in autumn and winter while the perennial aspect gives it longevity on farm."
Cristian adds Mohaka is well-suited to supplementary systems and recommends it for silage production - something Bryce has seen firsthand. Bryce sowed the Mohaka in September and the next day, it was blanketed in two inches of snow.
"A week later, we got a real good period of sun and it really took off," he says. "Through the period of spring, it gets up and going a lot better than our perennial pastures."
One of the main reasons Cristian recommended Mohaka to Bryce is its tolerance to porina.
Porina are a big problem in the area so Cristian calls on Mohaka with AR37 endophyte as it offers increased protection against insect attacks. "We have a lot of porina and grass grub which can be hard to manage," Bryce says. "They eat a lot of grass and weeds."
Mohaka also responds well to the additional sprays Bryce uses to combat challenging weeds, particularly the wild turnip.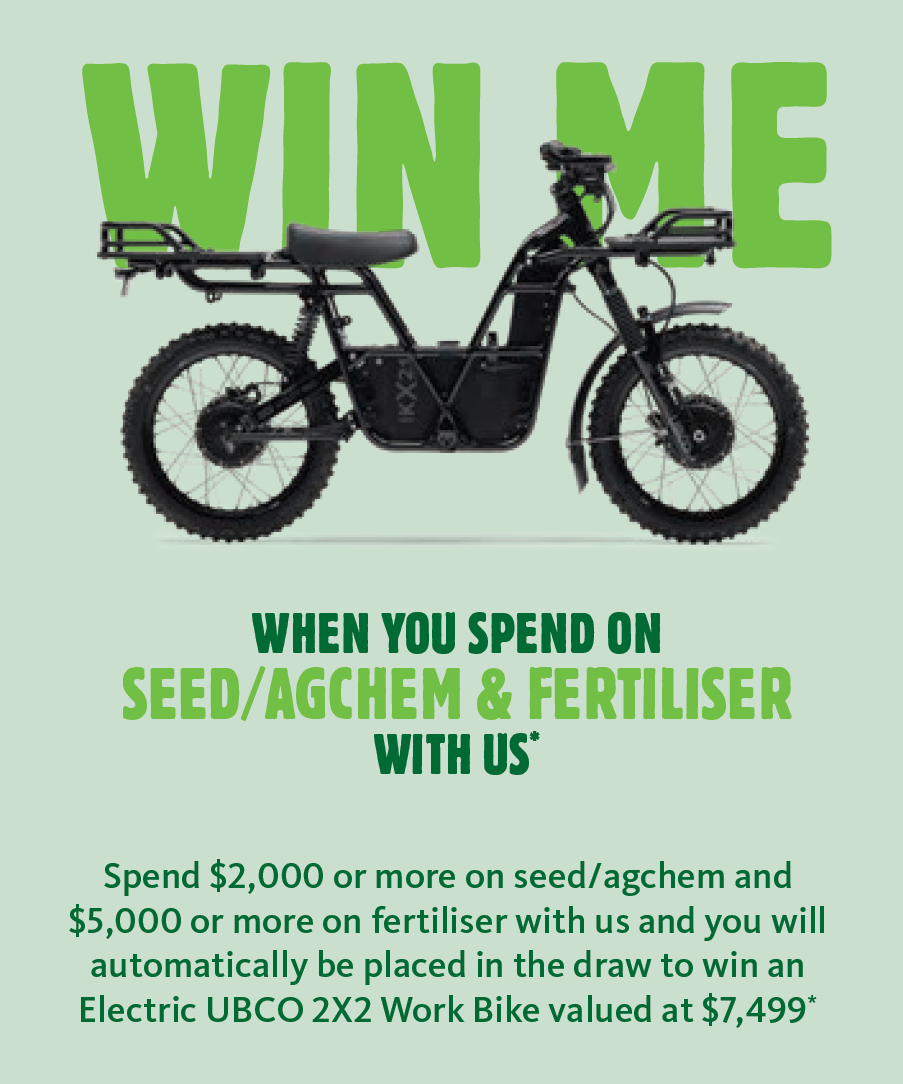 There's certainly a lot to manage on the farm and Bryce credits Cristian for taking the lead in the last 12 months, allowing him time for other areas of growth - including his family. "It's quite hard to manage time for the pasture and cropping side of it so we've really relied on Cristian to sort of take hold of that. He turned up weekly at the early establishment and then fortnightly just keeping on weed and pest control."
Bryce says using Mohaka has been a bit of a "trial and error" with their farm system, but he's impressed with the results.
"We wanted to try something new and the Mohaka stood out second to none."
To find out which grasses or crops are best for your farm, book your FREE cropping or pasture plan this spring. Get in touch with your local TSR or call 0800 731 266.