Wildeye Soil Moisture Probe has proved a winner with farmers in recent trials
23 April 2019
The trials, which took place in Canterbury last year, were the result of a partnership between Farm Source and irrigation monitoring specialists, Wildeye.
Founded in 2002, Wildeye is a New Zealand Agritech business that develops products to help farmers improve yields and water usage. Its monitoring systems provide solutions for the agriculture industry throughout New Zealand, Australia, and the USA.
The Canterbury trials involved 20 Fonterra Suppliers and set out to test the Wildeye Soil Moisture Probe, an affordable, accurate and dependable soil moisture monitoring device for irrigation management. Farmers can install the device themselves and monitor data remotely through an app.
The Wildeye system helps farmers optimise the use of irrigation to support water-use obligations and ultimately reduce costs and raise efficiency. Canterbury was chosen as the location for the initial trial because it's an area which typically has a high use of irrigation and a focus on pasture and home-grown feed. And, of course, farmers in the Canterbury region face compliance pressure when it comes to irrigation.
Trial participant Tim Green, who farms 1,650 cows on 560 hectares (ha) in Leeston, was impressed with the simplicity of the Wildeye's installation.
"It was very easy to install and it didn't disturb the soil where we put the probe in, which helped us get the data quicker," he said.
Another trial participant, Ramon Westerbaan, said putting the moisture-meter in himself meant he had more confidence in the results.
"To be honest it was really simple to put in and I'd highly recommend it instead of paying someone else to put one in," said Ramon, who looked at the data once a day.
Data is displayed in an intuitive, cloud-based interface that can be remotely accessed from a desktop, tablet or mobile device. Tim says the data gave him more confidence with his irrigation decisions.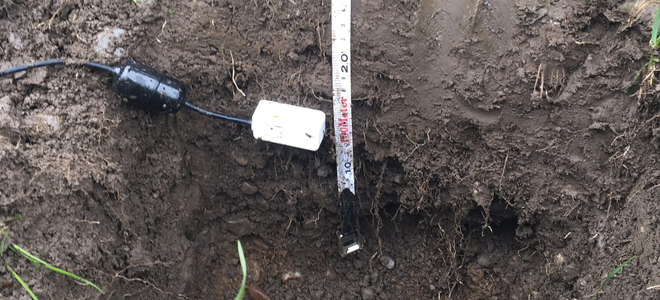 "I'd look at the results most mornings when I got the cows in, just to see if it was worthwhile to keep going with the irrigator or, if there was rain coming, we might get the chance to turn it off," says Tim.
While many farmers went into the trial expecting the main value of the device would lie in helping them meet regulatory requirements, they reported more value actually came from improved irrigation management and pasture growth insights.
"The biggest value I've found from the Wildeye would be the confidence to turn the irrigation on or turn off. Your gut feeling is normally to turn on at the start of the season but you might be able to get some water savings and efficiencies by holding off for a couple more days," said Tim.
Ramon said the Wildeye data was invaluable. "It's good to be able to see what your land is doing – you always want your land to be productive, and your cows aren't going to be productive if your land's not productive."
Craig and Aimee Eggleston, who farm 1,040 cows on 330ha at Lake Elsmore, said the Wildeye helped them avoid over-irrigating.
"We know if we over-irrigate we wreck things for ourselves more than anything," said Aimee.
Wildeye Soil Moisture Probes are now available in New Zealand exclusively through Farm Source. Contact your local Farm Source store or TSR today.