Fuel Partners
Our fuel partners offer reliable on-farm fuel deliveries nationwide as well as saving up to 16 cents per litre on fuel with your Fuel Cards at Caltex, Z Energy, Mobil and BP. All with the convenience of one monthly bill for your fuel purchases.
Fuel Cards
Farm Source have Fuel Card partnerships with Z Energy, Mobil, BP and Caltex giving you these benefits:
Use your Fuel Card in the same way as an EFTPOS card at all participating outlets and receive discounts
Keep track of all your fuel purchases through one monthly bill on your Farm Source account
Manage fuel purchases for multiple users on one account
Reduce unnecessary costs by restricting spend to fuel and oil only
For more flexibility and convenience, SuperCard also offers discounted fuel pricing and the ability to use the same card at over 2000 retailers throughout the country.
Mobilcard
Receive 16 cents per litre (incl GST) off the Mobilcard national price. This offer is only available at Mobil, Allied, Waitomo* and NPDservice stations and with your Mobilcard. Where the Pump Price is the same as, or lower than the prices stated here, the pump price will apply.
No card or transaction fees apply.*Discount is not available at the following Waitomo Petroleum service stations: Awhitu, Tirohanga Beach, Oparau, Kopuriki, and Murupara.
Z Energy Card
Receive 11 cents per litre (incl GST) off the service station pump price at all Z service stations. You can also collect Fly Buys points by providing your Fly Buys number on your fuel card application which is loaded to your Z card.
Fly Buys points are only applicable at service stations, NOT at truck or marine stops. One point per $50 cumulative spend each month, fuel and diesel only.
BP Card
Receive 3 cents per litre (incl GST) off the BP national price. The BP national price is made up of the average pump price in Auckland, Wellington and Christchurch. This discount applies at BP and participating Gasoline Alley Service stations.
Please note 10c transaction fee applies for all BP fuel cards
Caltex Card
Receive 6 cents per litre (incl GST) off the posted retail pump price at all Caltex service stations when you use your Caltex card.
For fuel prices or any other Fuel Card queries please contact our Customer Service Team on 0800 731 266.
On Farm Fuel
Farm Source offers reliable on farm fuel delivery nationwide with the convenience of billing to your Account. You can also purchase fuel storage solutions, quality oils and lubricants.
Our bulk fuel delivery partners are:
Allied Petroleum - both North and South Island
Waitomo Petroleum Limited - Waikato, Bay or Plenty and King Country
RD Petroleum - South Island
Toll United - Northland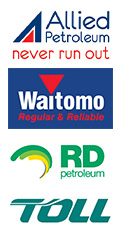 Alternatively to find out more about bulk on farm fuel deliveries or to place an order, contact the Customer Service Team on 0800 731 266.