SuperCard
SuperCard gives you access to great deals at more than 2000 retailers across the country. Purchases are charged to your Farm Source account so you enjoy the convenience of one monthly bill plus up to 50 days interest free.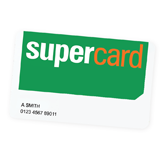 Use your SuperCard as a fuel card and save
Or use our search tool to find a full list of local retailers
Not a Farm Source account holder?
If you do not have a Farm Source account, apply online for your Farm Source account today.
Standard credit terms and conditions apply.