Product Description
For everyday lifestyle SPF30 and 80 minutes water resistance. Rubs in clear, soft spreadable gel with instant UVA/UVB protection. Perfect for all skin types, face, and body. Our hero product range.
Features
Use a pea sized blob for your face, neck and ears.
Made with no water, Skinnies is a spreadable gel (not a lotion, block or spray) that rubs in clear.
Skinnies Organogel technology forms a thin layer that bonds to the top of your skin, providing instant long lasting UV protection.
NO parabens, preservatives, alcohol or fragrances. Vegan friendly.
Perfect for all ethnicities and skin types.
Made in New Zealand for some of the harshest sun conditions in the world.
Benefits
Use 5 times less than typical sunscreens because Skinnies is not diluted with water. Normal sunscreens are made using 50-70% water.
Rubs in clear and doesn't leave you looking white and greasy.
Not diluted with water so better for you and the planet.
Doesn't evaporate or sweat off when you get active.
UVA/UVB broad spectrum to cover the full range of UV rays.
Perfect for on farm use, put it on at the start of the day and be protected all day.
Related Articles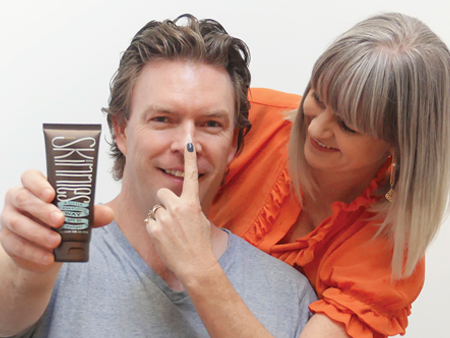 As business owners and proud parents, Martha and Olly Van Arts wanted to play a part in the way people enjoy the sunshine. Their innovative sunscreen brand, Skinnies, is an alternative to traditional sunscreen and is a waterless, eco sunscreen gel that's better for you and the planet.
Read more >>
---